Sheffield Tramlines – Cool event for everyone
In the city Sheffield, just near the Peak District there many things to do, like going to music festivals, for example, Sheffield Tramlines.
First time at a music festival at the age of 9! My visit to Sheffield Tramlines was long overdue, here is what I thought about it.
Tramlines is a 10\10 music festival with many great singers and lots of fun, different places to go to.It was my first time going and what I thought was going to happen is one huge stage and many good singers and a couple of fast food stales and drinks but what actually happened was there were five different areas with music, comedy, food and rides. 
Sheffield Tramline Music 
The music was the best part all! My favourite singers Lewis Capaldi and Rag'n'Bone Man were there! They played there best songs I could sing along to with thousands of other people.
The BBC Sheffield Tramline Stall and Quite Area
BBC Sheffield provided a fun competition stall for children. I won a BBC canvas bag and a great big purple water bottle. The was in a quiet place where you can relax, sit in some deck chair and watch a film as well. The quite area was good when it got too noisy, and I wanted to take a break and to chill.  
The chill-out area also had craft stalls. There was a picknick area where parents could feed their kids in peace. Some parents took their toddles to have sleep because the city was in the shade. 
Rides @ Sheffield Tramlines
I am not a big fan of rides myself. For those who do, there were about four options. There were spinning capsules, and the upside-down rides, a lot of screaming! I did go on gentle kids' bouncing in the air ride – just enough for many toddlers that went on it and me:-)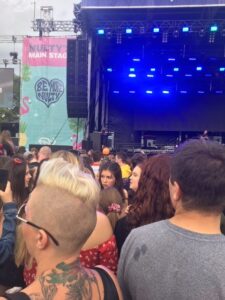 The Necessities of Life: Water & Toilets
Water – it was nice and fresh, located in the centre. I think that there could have been more water fountains because the queues got quite long. BUT you will need to bring your own bottle.
Toilets – they were clean, stocked with toilet paper. During the breaks at the main stage, the lines could get quite long, but otherwise, everything was good about them.
Things That Could Have been There
To make the festival even more exciting for the children I think that a Sweet Street with a fresh candy floss making machine would have been a great hit. Also, I believe that organisers could have introduced an area for the tiny ones kids play area with facepainting, a bouncy castle and ball play pit.
And that's what I think of Sheffield Tramlines. Thank you for reading this blog.